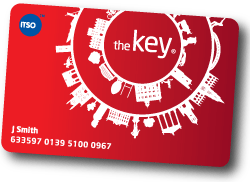 FAQ
How do I know how many travel-credits I have left?
There are 3 easy ways to find out how much you have:
The screen on the card reader on the bus shows you, every time you use your key.
Go online at www.oxfordkey.co.uk, log in and click on the "my travel products" tab. This will show you your outstanding travel-credits. The online system is always 24 hours behind, so it will only start to show travel credits the day after you bought them.
Pop in to our Travel Shop in Debenhams and we can check for you.
COVID-19 Update
During the COVID-19 pandemic, key workers and those making essential journeys can still top up their key cards online as normal. On-bus key top ups will also be available for all 1 week, 4 weeks, 12 trips and any 5 days products until further notice.
Find out more about our services during COVID-19: www.oxfordbus.co.uk/covid-19