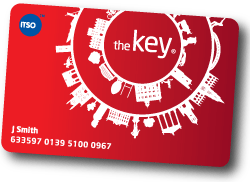 FAQ
Requesting a Refund on key Products
Refund Eligibility
Refunds may be requested on any unused products within 28 days of purchase, subject to a £5 administration fee. After this time only 13 or 52 week products will be eligible for a refund.
Requesting a Refund
If you no longer require your travel product, then you can request one by sending your key card through the post to us with a brief cover letter explaining your refund request.
As we do not refund pro-rata (for details on this and how we do please see below), we strongly recommend requesting a refund quote in advance of sending your card in for a refund. You can do this by e-mailing thekey@oxfordbus.co.uk and confirming your full name, date of birth, key card number and postcode, alongside when you expect to last use the card.
The address is to send your card and refund request is:
Smartcard Refunds
Cowley House
Oxford Bus Company
Watlington Road
Oxford
OX4 6GA
If you would like to continue using the key and purchase another product, please let us know and we'll send out a new card without the products being refunded so you continue to use the key.
How Refunds on Partially Used Products are Worked Out
Partial refunds are only available on 13 and 52 week products. Refunds are worked out by making up the time used on your product using the next best value product(s) available in the same product range. There also an admin fee of £5 for each product refunded.
Please be aware the effective cost per week on longer term passes (such as Annuals) is normally progressively cheaper than shorter term passes. This refund method will match the value of the products if you'd originally purchased the time length you required, with the exception of the admin fee.
For example if you returned an Adult SmartZone Annual product for £465 and cancelled 26 weeks later, this would mean you had used the equivalent of two Adult SmartZone 13 week passes (each costing £136.50). So the refund would be £465 - (£136.50 + £136.50) - £5 = £187.
The reason we (and other transport companies) do not offer pro-rata refunds is because the effective value per week becomes more heavily discounted on longer duration passes.
Please note that any discounts used at the time of purchase will not be factored in to the value of time used.
Terms and Conditions
To see our full key Terms and Conditions please click here.