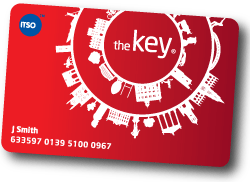 FAQ
Placing a bulk order for the key
The key is designed to be registered to an individual customer, though we do also use the key for bulk orders, primarily for Language School clients. If you have a group of ten or more that require travel, please visit the Oxford Bus Tickets website.
Please allow up to five working days to process the order before it's ready for collection at one of our travel shops (though we will always aim to have the order ready as soon as possible). You are also able to expedite orders to be available within 2 working days. (This is charged at a per card rate and is dependant on the size of the orders and how busy we are)

You can see the full range at the key product guide page. If you require durations that aren't listed such as 2 or 3 weeks, these would made up using the products available (so 2 weeks is made up using two 1 week passes). If you have a group name you'd like used for the cards, please also specify this.