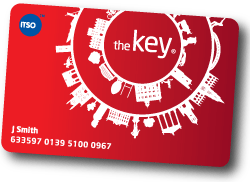 FAQ
How do I use my key on the bus?
Simply place your key on the bus reader - and wait for the green light and a beep. There is no need to "swipe out" at the end of your journey.
COVID-19 Update
During the COVID-19 pandemic, key workers and those making essential journeys can still top up their key cards online as normal. On-bus key top ups will also be available for all 1 week, 4 weeks, 12 trips and any 5 days products until further notice.
Find out more about our services during COVID-19: www.oxfordbus.co.uk/covid-19