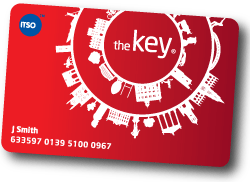 FAQ
key Product Guide
Welcome to the key Product Guide, where you can see our full range of Travel Products. Registering for a new card costs £5 via our Travel Shops or free when ordered online.
PLEASE REMEMBER: When registering for or topping up in store for an age-related discount card (such as an 18 and Under pass), proof of age is required.
If you've registered a card at one of our Travel Shops and aren't sure how to login, click here. Please note that all products are valid for six or twelve months from the date of purchase (further details on each product).
To view our key Terms and Conditions please click here. To view our Refunds Policy please click here.
| | | |
| --- | --- | --- |
| | | |
| cityzone offers local travel on Oxford Bus Company city, park&ride and BROOKESbus services along with Thames Travel services within the cityzone area. Stagecoach services are not included. | SmartZone offers local travel on Oxford Bus Company city, park&ride and BROOKESbus services along with Thames Travel and Stagecoach services within the SmartZone area. | South Oxfordshire Zone offers local travel on Oxford Bus Company and Thames Travel services within the South Oxfordshire Zone area. Stagecoach services are not included. |
| | | |
| | | |
| --- | --- | --- |
| | | |
| park&ride offers local travel on all Oxford Bus Company park&ride services, along with city2/2A/2B services to and from Oxford Parkway in the evenings. Stagecoach services are not included. | cityzone & South Oxfordshire Zone offers local travel on Oxford Bus Company and Thames Travel services within both areas. Stagecoach services are not included. | SmartZone & South Oxon Zone offers local travel on OBC and Thames Travel services within both areas. Stagecoach services can be used within SmartZone but are not included in South Oxfordshire Zone. |
| | | |
| | | |
| --- | --- | --- |
| | | |
| Valid on all Oxford Bus Company and Thames Travel services within cityzone, as well as park&ride500 to Woodstock. Also valid on cityX3, X13, 4/4A/4B/4C and 35 in their entirety. Valid on Thames Travel X2 between Abingdon (Morland Gardens) and Oxford City. Valid on Thames Travel 11 between Oxford and Garsington. Valid on Thames Travel X38/X39/X40 between Oxford City and Nuneham Courtenay. | the airline offers travel on our fast and frequent coach services, from Oxford - Heathrow or Gatwick via Lewknor. Time based passes include cityzone & South Oxfordshire Zone travel for no extra charge. | |
| | | |

| | | | |
| --- | --- | --- | --- |
| | | | |
| Available as 1, 4, 13 week or Any-5-Day variants. Unlimited travel during each active pass. Activated on first use and only after previous pass has expired. Must be used within 6 months of purchase date. | Fixed period products running for 365 consecutive days. Unlimited travel during this time. You will be asked to confirm a start date on the Review Order page after selecting a product. | Single trip packs valid for 6 or 12 months from the date of purchase. SmartZone and the combination cityzone & South Oxon Zone Multi-trip products are valid for 6 months, others are valid for 12 months. | Sets up a Continuous Authority payment, charging each month for only the cost of a 4 week pass. Can be cancelled any time through your account. Any remaining time already paid for will be honoured. |